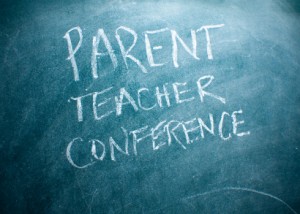 1. Invite both parents. But be sure to find out first if a student comes from a one-parent home, who has custody if the parents are divorced, and if both parents should come.
2. Contact parents early in the year. Send a letter or newsletter. Outline your curriculum and expectations and tell parents how they can reach you.
3. Allow enough time for the conference, at least 20 minutes. Give yourself a short break in between conferences.
4. Be ready for questions. Prepare in advance to answer specific questions parents have about their child's ability, skill levels, and achievements.
5. Get organized before the conference. Assemble your grades, test scores, student work samples, and attendance records. Have a plan for the conference.
6. Greet parents at the door. You'll help parents feel welcome and relieve their anxiety if you greet them at the door by name. Check records in advance so you have the correct names: parents, stepparents, grandparents, guardians.
7. Avoid physical barriers. Don't sit behind your desk or ask parents to perch on tiny chairs. Arrange seating so everyone is treated equally.
8. Open on a positive note and get to the specifics quickly. Begin with a positive statement about the child's ability, work, or interests. Identify problems and concerns with examples. Suggest specific things parents can do at home to help and ways you will proceed at school.
9. Forget the education jargon.
10. Ask for parents' opinions. Let parents know that you want to hear what they have to say. Then hear them out, even if the comments are hostile or negative.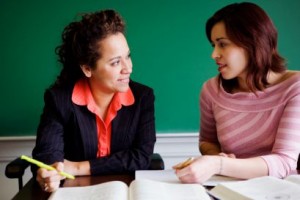 11. Focus on the child's strengths. Parents are easily defensive. After all, it's their child you're talking about. Review the child's strengths and needs without dwelling on weaknesses or being overly critical. Be honest, but not brutally honest.
12. Use positive body language. Nonverbal cues like your smile, a nod, eye contact, and posture let parents know you're interested. But keep in mind cultural differences about eye contact and seating arrangements.
13. Summarize. Before the conference ends, summarize the discussion and steps you and the parents will take. Keep a record of the conference. If you and the parents make specific plans or set a course of action for the child, follow up in writing in a day or two.
Communications Tips
Invite parents to join your class and help with school projects… Send home a list of books for parents to check out at the library or purchase… Find out when your students' birthdays are… Suggest ways that parents can support their children's learning with activities at home… Send welcome letters to new students and parents with a "survival kit" of classroom rules, homework expectations, what's been covered.
Invite specialists, e.g., art or music or P.E. teachers, speech therapist, to join you at conferences. If you are the specialist, ask to be included. Include paraeducators if you want parents to know how this support professional helps their child.